Upwork is an excellent choice if you want to keep your hiring options open. Whether you're looking to hire people quickly or establish long-term relationships with freelancers, Upwork's the place to find them. Browse millions of profiles on Upwork now, or read on for my detailed review of the platform.
| | |
| --- | --- |
| Starting price | Free to use. Freelancer hourly rates vary. |
| Fees | 5% fee per transaction |
| Top freelance categories | Writing, graphic design, software development, IT support, and data science |
| Freelancer screening process | No |
| Dispute resolution | Yes |
| Live chat support | Yes |
A Vast and Versatile Freelance Marketplace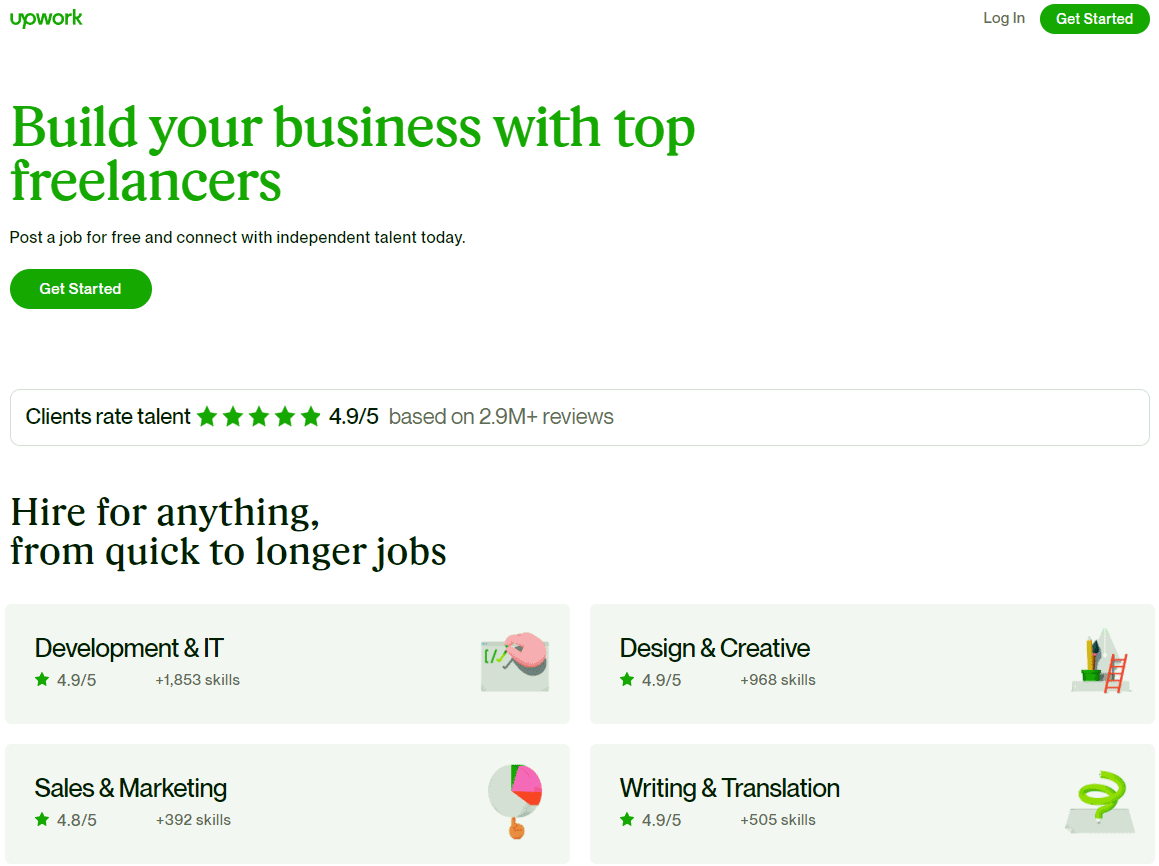 Finding freelancers online isn't that difficult nowadays. The challenging part is hiring professionals you can trust, who deliver excellent work as quickly and painlessly as possible. Upwork might be a household name, but how does it hold up in 2023? Can you trust it to connect you with skilled and capable freelancers?
To help clear up the picture, I tested its features, ease of use, support, and more. Upwork's talent pool is gigantic, and the website's easy to use. Combine that with its low fees and Payment Protection plan, and you have a recipe for success.
Whether you're a small business owner looking to hire someone for a quick one-off job or a larger company searching for new talent, Upwork has the tools to help you succeed. Everything from chats to video calls, file sharing, and payment processing can be completed in-house, saving you and your hires valuable time.
But before you invest any time and money, read this in-depth Upwork review to find out if it's the best choice for you.
Upwork's Impressive Set of Features Will Get the Job Done
Upwork is a robust and feature-heavy freelance marketplace that offers much more than just a hiring platform. Sure, it'll help you find skilled freelancers. But if you're willing to take advantage of all its advanced features, it can do so much more than that, too.
From reporting to payroll, Upwork covers every aspect of the hiring process.
A Gigantic Pool of Talent
As one of the oldest and most well-known online freelance platforms, it's no surprise that Upwork currently houses millions of professional profiles. Whether you're looking for an experienced full-stack developer, a versatile writer, or anything in between, Upwork won't disappoint.
The many available categories are further divided into specialties, making it easy to find the perfect candidate for the task at hand.
Different Ways To Hire
Freelance marketplaces often approach hiring in one of two ways. Some have you post jobs, while others offer long lists of freelancer profiles and relevant gigs. Upwork, on the other hand, does both.
You can begin your journey by posting a job or using the "Discover" feature to find talent based on your project's requirements. There's even a project catalog feature that functions a lot like Fiverr's gigs (in other words, freelancers do the posting).
Since the hiring process can vary significantly from job to job, I appreciate this flexibility.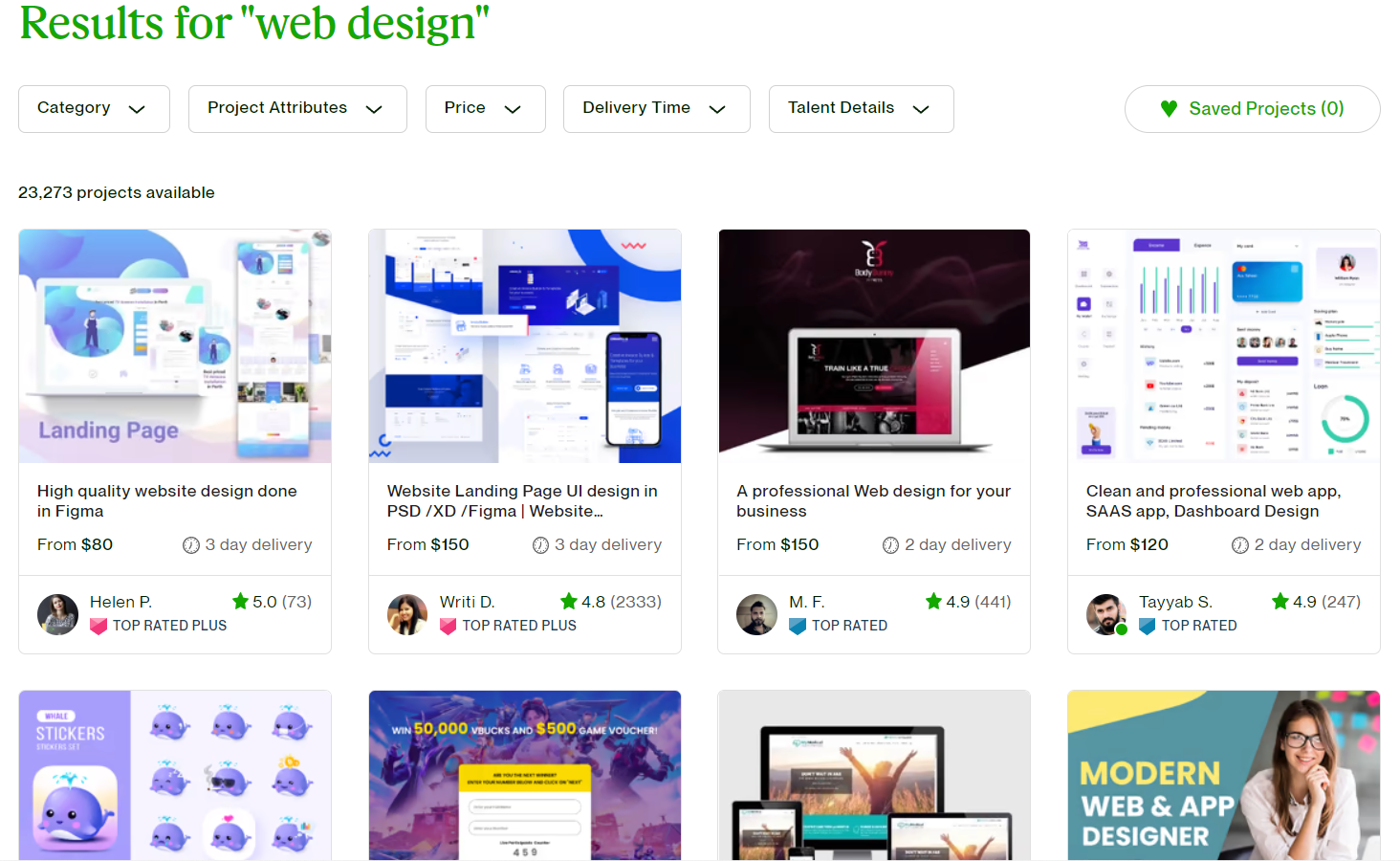 Upwork Plus users can also take advantage of the platform's talent-sourcing feature to find ideal candidates much more quickly.
Super-Detailed Freelancer Profiles
Although the weight ultimately falls on you to find and hire suitable candidates, Upwork's intricate profile structure hugely simplifies the interview process.
Each profile works like a résumé, listing crucial information about the freelancer such as employment history, education, work history on the platform, job success score, the amount of money they've earned through Upwork, and the total hours they've worked.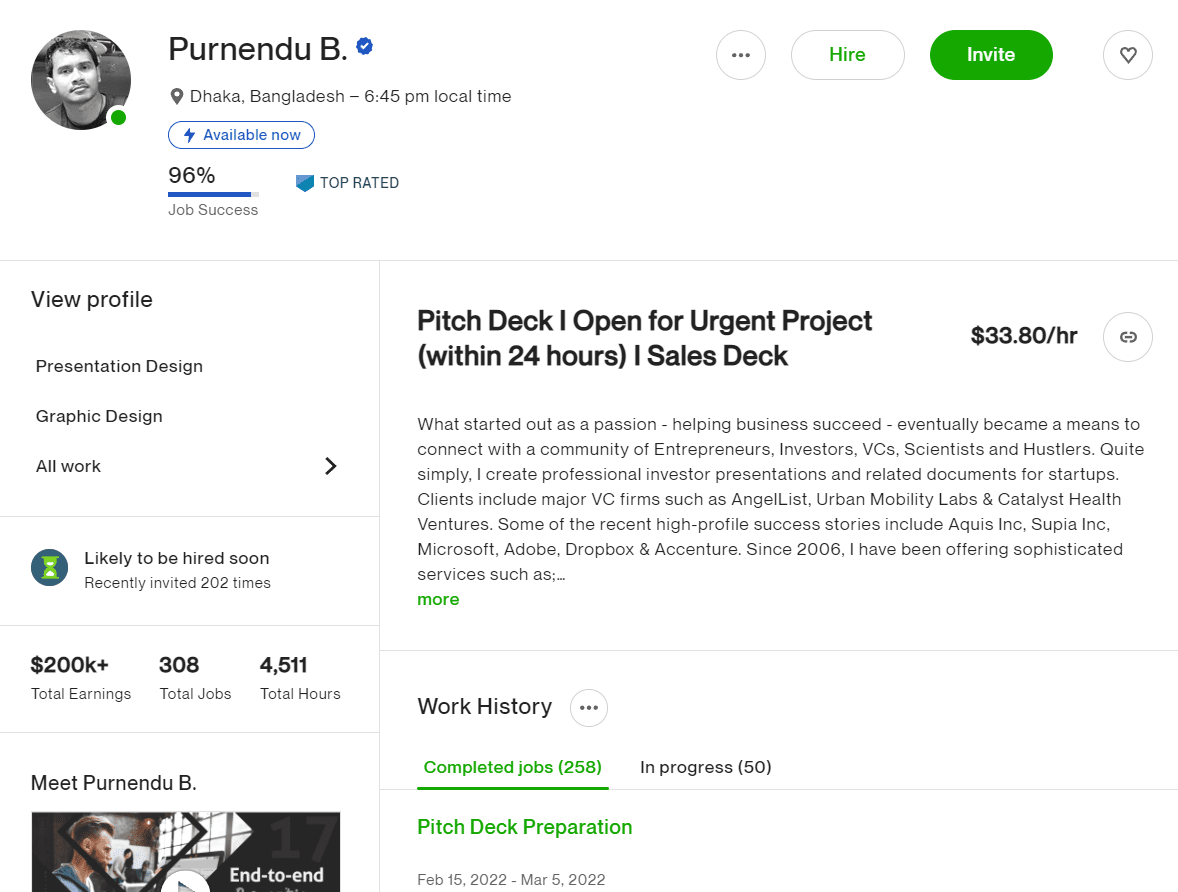 Freelancers can also list certificates and relevant skills, and some even showcase work completed outside the platform with images uploaded under the portfolio section. If you take the time to go through each candidate's profile, you'll have all the information you need to make an informed decision.
Secure Payments
Unlike less-known freelance marketplaces, Upwork takes payments very seriously. The Payment Protection plan adds an extra layer of security, ensuring you always get what you pay for.
How does it work? If something doesn't seem right (for example, a freelancer's logging more hours than agreed), you can easily file a dispute and get your money back.
Similarly, Upwork won't release your funds on fixed-priced projects until you approve the submitted work. If you're not satisfied with the result, you can ask for changes or even request an escrow refund.
Upwork Features at a Glance
| | |
| --- | --- |
| Signup fee | ✘ |
| Transaction fee | of 3% |
| Money-back guarantee* | ✔ *kind of – you can request a refund, but it's not guaranteed (the freelancer must approve it) |
| 24/7 support* | ✔ *kind of – if you're on the free plan, you have to make your way past the chatbot first |
| Conflict resolution | ✔ |
Upwork Is Easy To Use – Once You Get the Hang of It
Posting jobs on Upwork is pretty straightforward – although I'd say there's a slight learning curve if you want to make full use of the advanced management tools.
Getting started on Upwork takes a bit more time than, say, Fiverr. Still, it's worth the effort in the long run, especially if your goal is to form meaningful and long-standing business relationships with your hires.
Clean Interface and Advanced Search Filters
As a hirer, everything you need is never more than two clicks away. Through Upwork's main menu, you can quickly view your job posts, active contracts, hire information, detailed financial reports, and messages.
Upwork's search engine is well laid out and easy to navigate. Besides categories and specialties, I love how you can use multiple filters (such as location, hourly rate, earned amount, job success, hours billed, or English level) to narrow your search.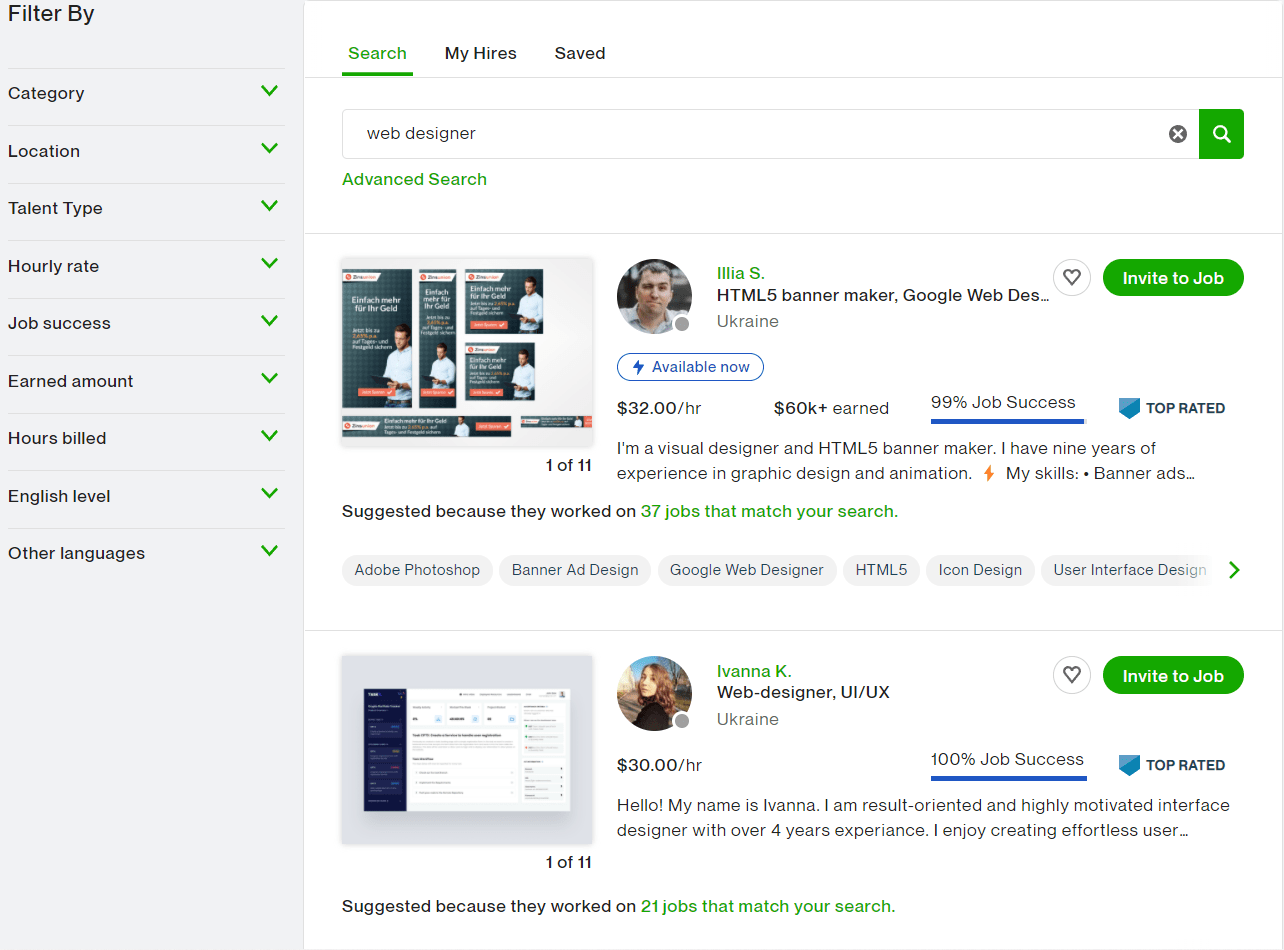 The huge talent pool combined with all these filters means you can be picky with your invites and potential hires.
Even if you just use the search bar, you won't have any trouble finding capable freelancers. The algorithm pushes people with immediate availability and high success scores to the top.
Quick Job Postings
Upwork is best known for its traditional yet effective job postings. As long as you have a clear idea of what you're looking for, Upwork will guide you through the hiring process.
Everything is streamlined and easy to follow: you pick a headline, select some relevant skills, set your scope and budget, add a short description, and that's it – you're good to go. It took me less than 5 minutes to post my first job, and within half an hour, people were already applying and asking questions.
To make things even easier, Upwork will show profiles that meet your criteria once you've posted something. You can save time by sending invites to some of these recommended candidates while waiting for more applicants.
Easy Monitoring for Hourly Contracts
Online monitoring is a touchy subject, and as a freelancer myself, I don't love it. Still, I realize that when I'm paying someone by the hour to create a logo for my website, I expect them to only log time when they're working on my project – and not when they're watching cat videos on YouTube.
Also Read: How does Fiverr works and ways to make money from it
Upwork's app takes random screenshots every ten minutes or so. It also tracks clicks and keystrokes, calculating an activity score for every ten-minute interval.
These entries are automatically created as long as the freelancer keeps the app running in the background, and you can easily access their work diary through the contracts menu. If something doesn't add up, you can bring it up with them or file for a dispute if they're not cooperating.
Great Support Once You Escape the Chatbot
Upwork's support revolves around a headstrong robot. And to be frank, I'm not a fan of services that streamline the support experience by limiting contact channels and throwing "clever" AI chatbots into the equation.
Before connecting you with a representative, Upwork's bot will scan and analyze your question, picking out keywords and pointing you toward relevant sources drawn from their (enormous) knowledge base.
Things are considerably smoother if you're on the Plus plan, which unlocks 24/7 live chat and phone support. I put Upwork's support to the test by asking a general question about refunds:
Is it easy to get my money back if I'm not satisfied with a freelancer's work? How long do I have to file a dispute?
Upwork's chatbot answered my question almost instantly.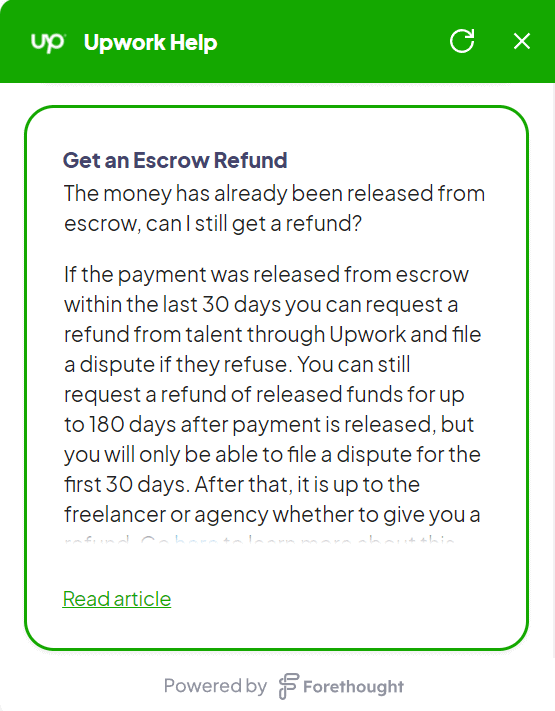 I went on to ask about hourly contract refunds and Upwork's Payment protection, and the bot rose to the occasion time and time again. It turns out you have 30 days to file a dispute for fixed-price projects and one week to review hours logged through work diaries.
I also wished to learn more about Upwork's talent specialists, who, according to reports, assist Plus users in finding the right professionals much faster. It was at that moment when I ultimately outperformed Upwork's bot – it conceded and directed me to a human representative.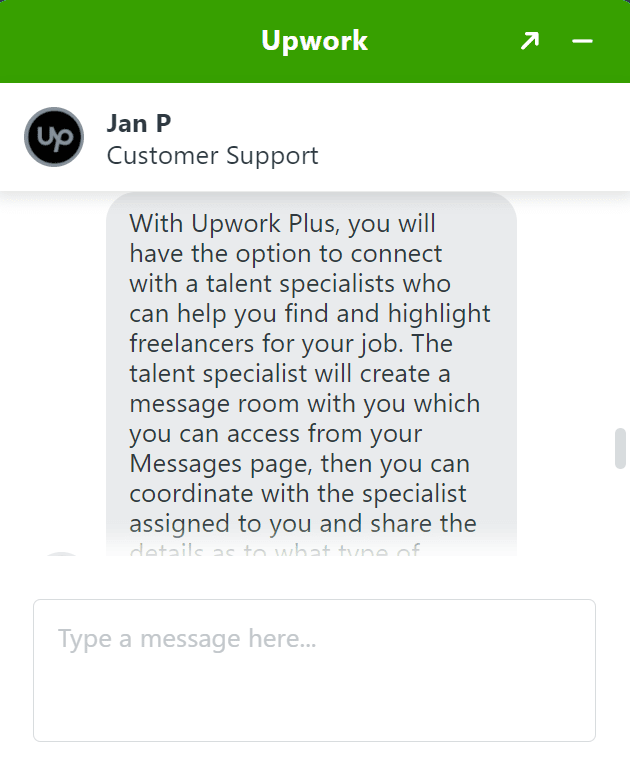 No more than 30 seconds later, Jan got back to me, explaining everything I needed to know about the program. They also outlined some other benefits of the Plus plan and even offered me a free 30-day trial to test these features myself!
Upwork's representatives are eager to help, but chatbots are NOT fun – especially when they're always in the way of real human interaction. I didn't encounter any serious problems myself, but if I had, I would've appreciated it if I could skip the bot and talk to a human right away.
Upwork is completely free to use, only charging a flat – and very reasonable – 3% fee for payments. PeoplePerHour, for example, charges a flat 10%, while Fiverr and 99designs both charge 5%. Accepted payment methods include credit/debit cards, PayPal, and US bank accounts.
Keep in mind that all payments on Upwork are made in USD, which means that conversion rates are determined by your/your freelancer's bank.
Now, if you want to take full advantage of Upwork's advanced tools and support, you might consider switching to the Plus plan, which starts at $49.99/month. This plan is only billed monthly (no annual discounts), and there are no refunds either.
While it's possible to get things done as a free user, Upwork's Plus plan is loaded with many helpful perks and features. Imagine how much time you could save with a dedicated account manager and a trained talent specialist on your side.
You'll also unlock access to Upwork's 24/7 chat support and 24/5 phone support, which means you won't have to deal with the annoying chatbot.
The extra management and reporting tools are great to have as well. You'll be able to allocate hires to different teams and add unique payment methods while also tracking progress and spending through aggregated company reports.
Plus clients can invite more freelancers to view their posts, and they can upgrade one of their jobs to "Featured" status once a month. You're much more likely to attract talent with your shiny blue Plus client badge, which will be displayed on all your postings.
Upwork offers Enterprise plans that can be customized by larger companies to align the platform with their specific needs. Nevertheless, if your intention does not involve hiring entire teams through Upwork, this is not a matter you should be concerned about.
FAQ
Is Upwork Safe to Use?
Yes, Upwork is safe to use. Every day, millions of hirers and freelancers from around the globe use it to get work done. Upwork's Payment Protection plan on both hourly contracts and fixed-price projects adds another layer of security to the platform.
Is Upwork Free for Clients?
Yes, Upwork comes with a free-forever plan. You'll still be charged a flat 3% fee for every payment you make, but this is pretty good compared to other freelance sites – check out our list of the best freelance websites for comparison. You can also access advanced management tools and other perks by signing up for Upwork's Plus Client plan.
How Do Clients Hire on Upwork?
Clients on Upwork can hire talent in many different ways. They can post a job and interview candidates, browse the project catalog (of gigs published by freelancers), or use the "Discover" feature to find freelancers and contact them directly.
Do Clients Get Reviews on Upwork?
Yes. Like freelancers, clients get reviews on Upwork. Each freelancer you work with can give you one to five stars and leave a brief comment to describe your collaboration. The system will show you how to leave a review on Upwork when you end your first contract.