PayPal Cashback Mastercard® offers a cash-back rate that beats many of the best cash-back cards.
Big cash back and no annual fee can be a valuable combination, but before you decide to get this card, you should also know about the areas in which it doesn't quite measure up to the competition. In our PayPal Cashback Mastercard® review, we'll take an in-depth look at its pros and cons.
PayPal Cashback Mastercard®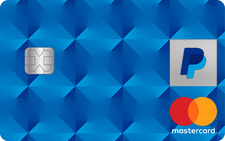 Rating image, 3.50 out of 5 stars.
3.50 stars
Our ratings are based on a 5-star scale. 5 stars equals Best. 4 stars equals Excellent. 3 stars equals Good. 2 stars equals Fair. 1 star equals Poor.
INTRO APR
Purchases: N/A
Balance Transfers: N/A
REGULAR APR
19.24% – 28.24%, variable (rates as of 2/13/2023)
REWARDS
3% cash back on PayPal purchases; 2% everywhere else Mastercard is accepted
This card doesn't offer a bonus or intro APR, but getting up to 3% cash back makes up for it.

Robust cash back
No annual fee
No foreign transaction fee
No cash back redemption minimum

No sign-up bonus
No 0% intro APR offer

Get up to 3% cash back every day, every purchase, every time you use your card. No rotating categories to keep track of.
Redeem Cash Rewards right to your PayPal balance — start enjoying your rewards today! No redemption threshold.
Use your PayPal Cashback Mastercard to shop everywhere Mastercard is accepted. No purchase restrictions.
PayPal Cashback Mastercard review
This credit card is a good fit for: People looking for a simple, no-frills option that offers an excellent cash-back rate on their spending.
Top perks
No annual fee
It won't cost you anything extra to get this card, because it doesn't charge an annual fee. That also means if you avoid interest charges by paying your balance in full, the rewards you earn from this card will be 100% profit.
See more: 5 Ways to Turn $100 Into Passive Income In 2023
Unlimited 2% back
This card has one of the best cash-back rates you'll find, earning 2% back on purchases. There's no cap on that, either, so you'll continue getting the 2% rate no matter how much money you spend.
If you prefer to have flat-rate cash back that you earn on your expenses instead of cashback rates that vary by spending category, then the PayPal Cashback Mastercard® is an excellent choice.
No cash back redemption minimum
You can redeem as little as $0.01 of cash back as soon as it posts to your account. Although this may not seem like a big deal, some cash-back cards have redemption minimums, such as $25, or let you redeem your cash back only in certain amounts. It's much more convenient when you can cash in what you've earned at any time and any amount.
Read more: Best Cash Back Credit Cards
No foreign transaction fee
Many no-annual-fee cards charge a 3% fee on foreign transactions, which can add up if you travel abroad and use your credit card frequently. Because the PayPal Cashback Mastercard® doesn't have this fee, you can use it internationally without paying more. However, if you travel often, you're better off checking out travel rewards cards. The rewards and benefits those cards offer provide more value for frequent travelers.
Use your card upon approval
Once PayPal approves your application, you can start using the card through your PayPal account while waiting for it to arrive in the mail. What's nice about this is the fact that you don't need to wait to start earning cash back.
Learn more: Best Rewards Credit Cards
If you want to pay off debt faster and earn 2% back: The Citi® Double Cash Card – 18-month BT offer is also a no-annual-fee card that gives you 2% cash back on purchases (1% when you buy, and 1% when you pay it off). But for those in debt, it comes with a big added advantage: An 18-month, 0% intro APR intro offer on balance transfers.
If you spend a lot on dining and entertainment: The Capital One SavorOne Cash Rewards Credit Card might make more sense because it earns an unlimited 3% cash back on dining, entertainment, and at select grocery stores. If you spend more in these areas, this card, which also has no annual fee, could be a better bet for you.
The PayPal Cashback Mastercard card is right for you if:
You'll love the PayPal Cashback Mastercard® if you want one cash-back card to use for your expenses. Since flat-rate cards earn a respectable amount back on purchases, consumers often find that they get the most cash back by using this type of card. And when it comes to flat-rate cards, the 2% cash-back rate on the PayPal Cashback Mastercard® ranks at the top.
The biggest issue with this card is that, besides the cash-back rate, it doesn't have much going for it. For example, there's no sign-up bonus. And if you want a 0% intro APR, you won't find it here. PayPal Cashback Mastercard® is fantastic for earning cash back on what you spend, but that's about it.
FAQs
The credit limit for the PayPal Cashback Mastercard® usually ranges from $300 to $10,000, although some cardholders have reported receiving higher limits. When your application is approved, the card issuer sets your credit limit based on your income, credit profile, and other financial information.

The PayPal Cashback Mastercard® shouldn't be hard to get if you have good credit. Applicants should aim for a 670 or higher FICO® Score, but if your score isn't that high yet, you may want to work on building credit first.

Yes, you can use the PayPal Cashback Mastercard® internationally, and it doesn't charge a foreign transaction fee.